Comic Book Festival Dublin
Issue #8: 17-20 May 2023
---
Fête de l'Illustration & de la Bande Dessinée
---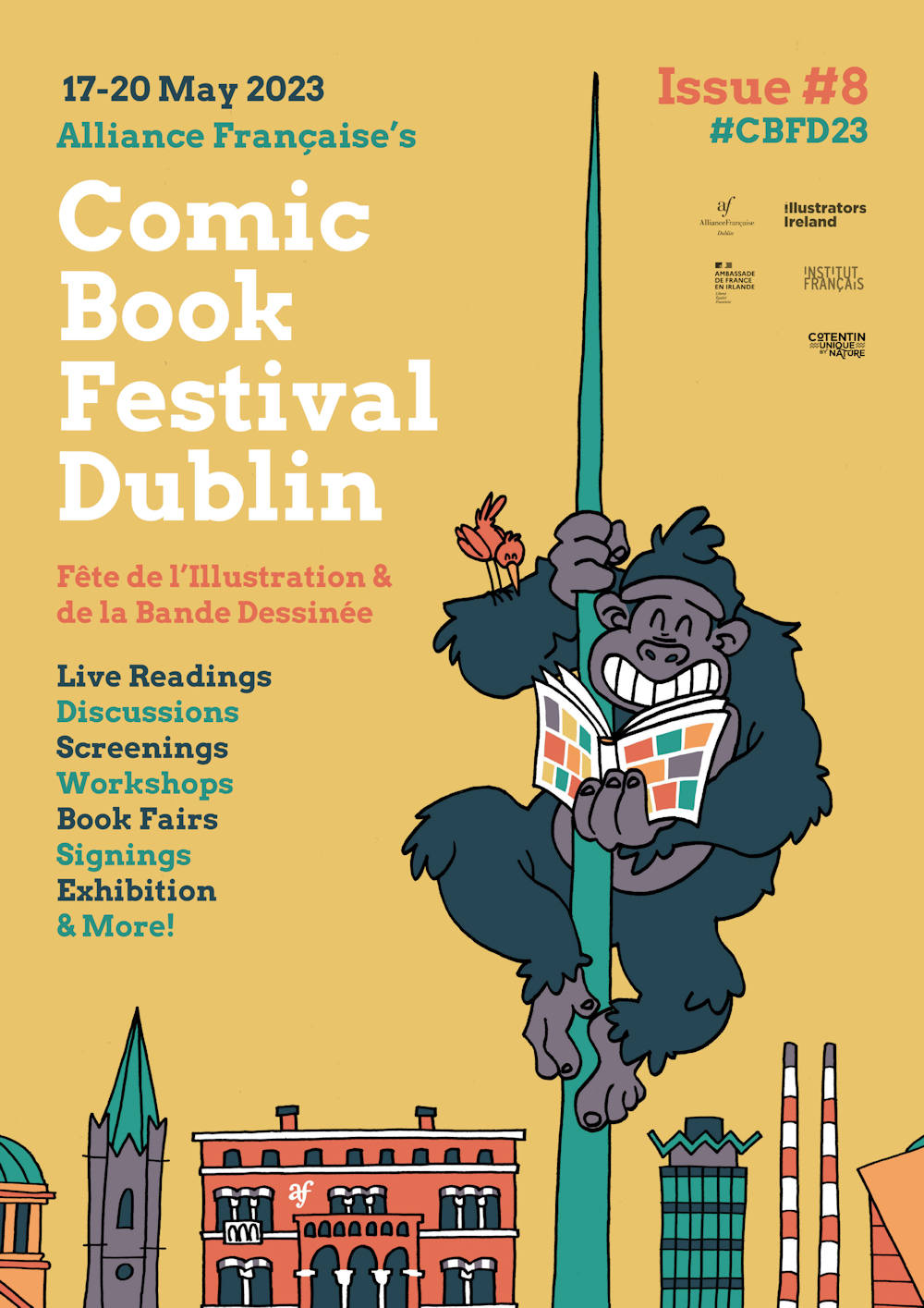 About
---
Alliance Française Dublin , Illustrators Ireland and the French Embassy in Irelandare proud to celebrate the 8th Anniversary of their partnership in presenting the Fête de l 'illustration & de la Bande Dessinée. In 2023, we present a comic book festival that celebrates the diverse traditions of the French 'Bande Dessinée' and the Irish tradition of Storytelling. We will welcome a range of creative talent to the Alliance Francaise, guaranteed to inspire, entertain and amaze.
The 8th Comic Book Festival Dublin, taking place from 17th to 20th May, will include a series of events including discussions, live readings, screenings, and creative workshops for children, teenagers and adult .
Events
---
All events are free of charge. Please note early booking is essential (except for the Exhibition)
Performance

Live Readings
& Book Fair

Illustrators Ireland has selected the most promising indie comic makers from Ireland and France to bring their comics to life. The experience is a fully immersive storytelling event that combines illustration, sound, and live performance in what feels like a cross between theatre and animation. After the performance by the artists, a live talk and Q& A will be moderated by illustrator Melanie Whelan.

Wednesday 17 May – 6.30pm

Admission Free
Alliance Française Dublin
Talk

Meet Sarah Bowie
& Nathaniel Legendre

An in-depth look at the works of two major comic artists: Nathaniel Legendre (France) and Sarah Bowie (Ireland) will present their craft and go through the process of bringing an idea to its visual iteration. Two artists, two cultures, two different stories, two different styles. Talks presented in English by Irish illustrator Melanie Whelan. The event will be followed by a book sale & signing.

Thursday 18 May – 6.30pm

Admission Free
Alliance Française Dublin
Online Screening

Titeuf:
Le Film

To celebrate the 30th anniversary of the beloved comic book and animation series character Titeuf created by Zep, the Festival will be streaming for free the 2011 full feature film Titeuf between 18th and 21st May. In this movie - Titeuf's life never been worse - Nadia didn't invite him to her birthday party, his parents are close to be deported - and everything looks so bad. No one can solve the problems now but Titeuf in his funny way ... Or maybe he'll fail too?
From 7 years old. English with French subtitles

18 - 21 May

Admission Free
Streaming on Eventive
Teenagers' Workshop

Storytelling & Character Design
with Sarah Bowie

In this writing and drawing workshop with award-winning illustrator Sarah Bowie, participants will be guided through an interactive session where they will learn how to: Create their own characters / Build a world for their characters / Take their characters on an amazing adventure. Participants will be shown how to plot and layout their story. The end result will be their very own mini-comic - written, illustrated and designed by them!
Workshop in English designed for teenagers

Friday 19 May – 5pm

€10 / €5 AF Members
Alliance Française Dublin
Onsite Screening

Michel Ocelot's
Dilili à Paris

Dilili à Paris will be screened on our final evening, a French, German, and Belgian computer-animated period adventure film written and directed by Michel Ocelot (Kirikou, Azur & Asmar) . In the Belle Époque, a little Kanak girl is investigating a mystery in Paris.
From 7 years old. English with French subtitles

Friday 19 May – 6.30pm

€5 / Free for AF Members
Alliance Française Dublin
Children's Workshop

Comics, Colour & Poetry
with Fiona Dowling

In this hands-on workshop in English and French with Franco-Irish illustrator Fiona Dowling, we will use lots and lots of exuberant colours and words, we will cut them all up, mix them together and we will get… a brand new comic!
From 7 years old. Materials provided

Saturday 20 May – 11am

€10 / €5 AF Members
Alliance Française Dublin
Adults' Workshop

Graphic Memoir
with Melanie Whelan

Come and learn how to use your own life as inspiration in comics. Comic book maker Melanie Whelan will take you through a series of exercises and show you how to use your own everyday experiences to create a comic. From the most mundane to the extraordinary- inspiration is all around us!

Saturday 20 May – 2pm

€10 / €5 AF Members
Alliance Française Dublin
Exhibition

Lines of
Communication

Offering a unique blend of storytelling visual styles, Illustrators Ireland and friends are delighted to present an exhibition of recent work entitled Lines of Communication. This year's artists include illustrators, comics makers, graphic novelists, designers and teachers. These large-scale works are guaranteed to enchant and enthral you!

From May to June

Admission Free
Alliance Française Dublin
Artists
---
We are honoured to welcome this year 11 illustrators and comic book authors of French and English languages. Many thanks to all of them.
2023 guests: